| | | |
| --- | --- | --- |
| | Darwin Evolution | |
Hans' Paleobotany Pages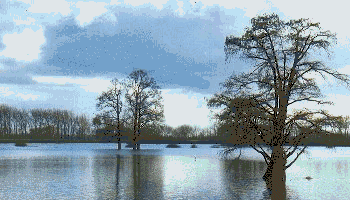 Taxodium at Ellecom (NL): a living fossil.
This website is dedicated to fossil plants. The first indications for the existence of land plants date from 470 million years ago, from the Ordovician. The oldest fossils of land plants visible with the naked eye are about 425 million years old, from the Middle Silurian. From this time on the plants spread over the land and the continents turned to green. This was the beginning of an amazing development, which created the terms for animal life on land.
On the basis of mainly self-found fossils a view is given of plant life in the Silurian, the Devonian, the Carboniferous and the Permian. Enjoy the beauty and the multitude of forms of long vanished plants!
Small animals, living between the plants, are also considered.
And now a little bit Mesozoic and Tertiary!
Silurian - present
Silurian - present
Silurian/Devonian
Silurian/Devonian
Silurian/Devonian
Silurian/Devonian
Devonian
Devonian
Devonian
Devonian
Devonian
Carboniferous*
Carboniferous*
Carboniferous*
Carboniferous*
Carboniferous*
Carboniferous*
Carboniferous*
Carboniferous*
Carboniferous*
Carboniferous*/Permian
Carboniferous*
Carboniferous*
Carboniferous*
Carboniferous*
Carboniferous*/Permian
Permian
Permian - present
Jurassic
Jurassic
Cretaceous
Cretaceous - present
Eocene
Oligocene

* Pennsylvanian
Hans Steur, Ellecom, The Netherlands
September 20, 2022