Ginkgo-like plants
The first undoubted Ginkgo-fossils occur in the Upper Permian. They have strongly divided leaves with well preserved cuticle. In Lodève the same kind of leaves have been found, but without preserved cuticle. Therefore it is not possible to determine the group to which these fossils belong. Genera from Lodève are Ginkgophyllum, Ginkgoites and Sphenobaiera.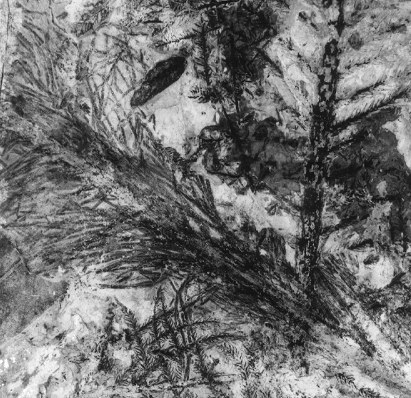 Trichopitys heteromorpha (and the conifer Walchia piniformis)
Length of the axis 11 cms
This species, which is only known from Lodève, has Ginkgo-like, branched, elongated leaves.
The fructification is also known: a branched stalk with ovules (seeds) at the end.
It is not impossible that this plant belongs to the Ginkgo-group, but is not certain.